Ski the fjords and glaciers of Northern Norway
Find fresh tracks in the lyngen alps
Our Fjords of Northern Norway is a one-week "Ski and Sail" adventure on board the Noorderlicht, our favourite sailboat for ski and sail trips! Explore the rugged coastline of Northern Norway, among the fjords and glaciated peaks that makes this region so famous. Ski in the coastal mountains of the Lyngen Alps, dropping anchor in the fjords that fringe this spectacular coastline. Join us for for a true Nordic trip of a lifetime!
Ski and Sail trips of course feature fantastic skiing accessible only by boat. But our Fjords of Northern Norway trip also offers an opportunity to experience Norwegian culture and traditions. Unlike Svalbard, which had no indigenous population or for that matter no history at all until the whaling expeditions a few hundred years ago, Northern Norway has been home to the Norse and indigenous Samí people for thousands of years. Archaeological records indicate that Tromsø has been inhabited for over 9,000 years! And whereas Svalbard is home to less than 3,000 inhabitants, Northern Norway has a population of close to 500,000. Most of the population lives in major towns such as Tromsø (capital of Troms County), Bodø (the capital of Nordland) and Vadsø (the capital of Finnmark), but there are many other small towns and villages especially along the coastline.
And of course there is the wildlife. There is no better way to experience the rich wildlife of Northern Norway than by sailboat. We'll keep a sharp eye out for puffins, sea eagles, walrus, arctic foxes, and even muskoxen. And it's not uncommon to share a ski run with a herd of galloping miniature reindeer!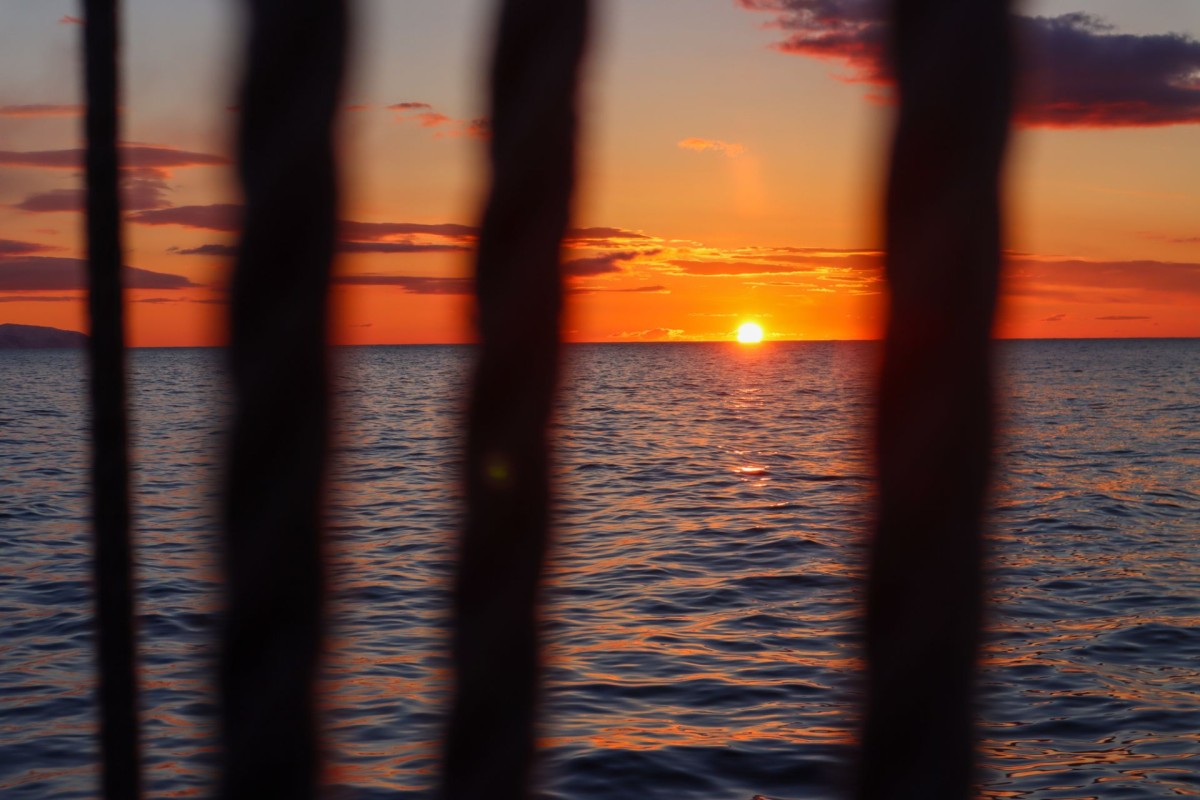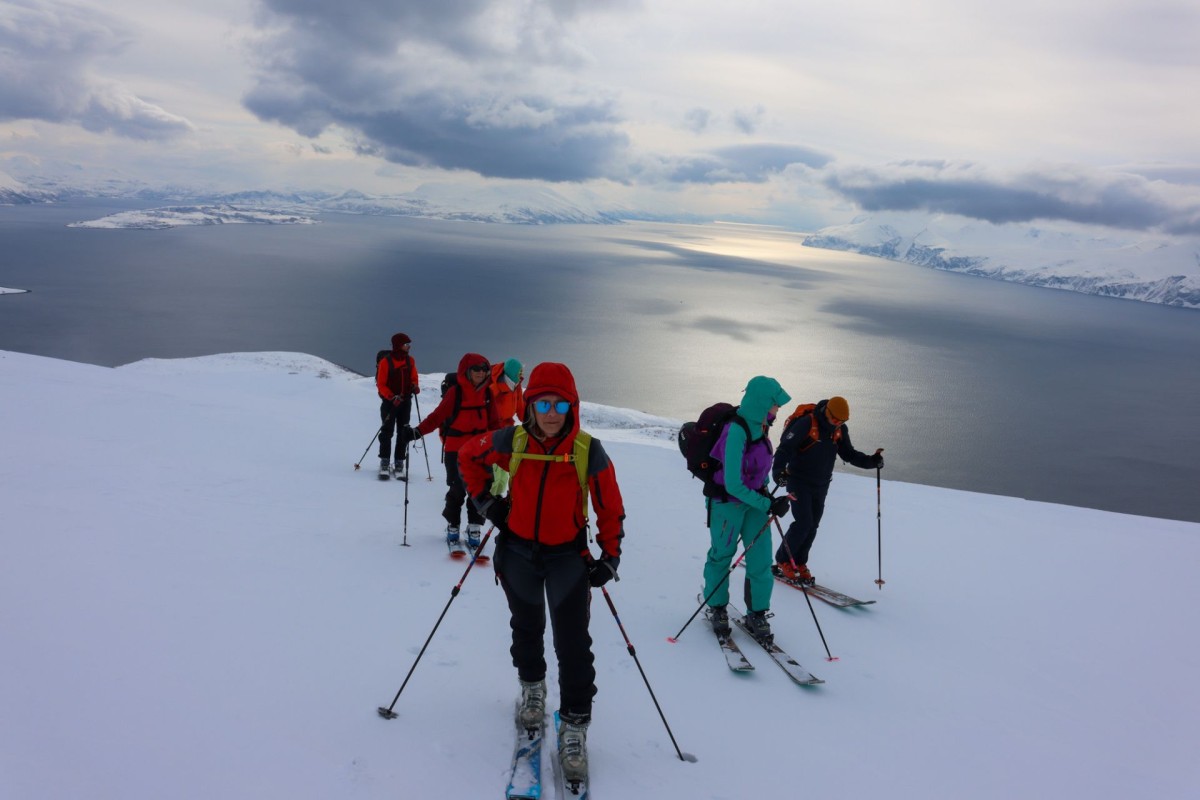 Fresh tracks in Northern Norway
Winding our way to the summit
Couloirs ending in birch forests
Fall line skiing to the sea
Ruth takes a break on the summit.
Let's have fish soup tonight
Ruth celebrates her first arctic tour
Fish curing in the arctic air
Waiting for pick, next to Solglimt
The Lyngen Alps in northern Norway have become very popular in recent years. The traditional routes are very busy and sometimes the crowding and tracked-out snow make it seem like you're skiing in the Alps!
Travelling by sailing boat, however, changes everything! Mooring close to the ideal departure points for excursions, ascents and descents on virgin terrain and free from crowding, a northern, arctic environment. To this we add the magic of travelling aboard the Noorderlicht,  a classic arctic sailing boat mastered by an experienced Dutch captain and crew.
SKI TOURING DAYS
Our excursions all set off from the sea and reach the peaks of a spectacular landscape of fjords and islands with the taste of the North, often with excellent snow cover.
A typical ski mountaineering excursion sets off in the morning from Noorderlicht, landing by Zodiac dinghy. We usually cover altitude differences of 800-1200m (3-5 hours in ascent) and normally descend along a different route, sometimes even crossing to a different return point.
The peaks we may climb have names that recall the Vikings: Trolltinden, Arnoyhogda, Stoltindn, Øksfordjøkelen, Nordmannsfjellet and more. 
The elevation gain corresponds exactly to the height of the summit, as we always set off from sea level!
THE NOORDERLICHT
The Noorderlicht is the same boat we have used now for many ski and sail trips in Svalbard. We are very excited to be able to use her. beginning for the first time in 2024, for our ski and sail season in Northern Norway! For more details on this beautiful boat see our Noorderlicht 360 Tour page. After years of sailing in Arctic waters I have seen many other sailboats and I can confidently say that the Noorderlicht is the very best of the bunch: spacious, elegant and comfortable.
This trip is being offered in partnership with Massimo Candolini / inMONT who has decades of experience with ski and sail trips in arctic environments in both Northern Norway and Svalbard. I have worked with Massimo and inMONT on numerous trips in both Svalbard and Norway and he and his guiding partners are fantastic – classic Italian humour, grace and professionalism.
A TYPICAL DAY
The days on board slip by following a pleasant routine, starting with breakfast served in the dining room, with a wide choice of sweet and savoury food. We then get ready for the day's activities with boots, backpack, skis in hand and, for landing in the Zodiac, a life jacket too.
Upon return from the excursion, we are welcomed aboard with hot soup, after which we can shower and rest. But there is also plenty of time to chat with our new friends from all over the world, to stand on the deck and perhaps to help the crew with the sails and, of course, to take photographs. The yacht will move on to the next destination in the afternoon, sometimes sailing without the engine, to reach a bay or a sheltered and calm place and where she can stop to offer guests a quiet dinner and an enjoyable evening.
NORTHERN LIGHTS
The season of the aurora borealis at the latitude of Tromsø draws to an end precisely in mid-April. There's nothing to say that we won't get the chance to see this amazing sight, though it does take a bit of luck…
Online Topo Map
A great resource made available by the Norwegian Government is this topo map of Norway that lets you explore Norway's extensive attractions and amenities online.
Guides
Tom Wolfe (Mountain Guide ACMG/IFMGA) – Based in Canmore, Alberta in the Canadian Rockies since 1994 Tom guides year around, with winters being a mix of ski guiding at lodges, heli-ski operations, and remote backcountry destinations throughout western Canada. He speaks English, German, and enough French and Spanish to get by.
Massimo Candolini (Mountain Guide / UIAGM) – I've been mountaineering since I was a child and I have scaled many peaks in the Alps, with a preference for winter, especially for skiing. I've been a Mountain Guide since 2003 and, from the beginning, I have devoted myself to traditional guide work, teaching and sharing, seeking to transmit my passion for mountaineering to others. My love of snow and ice now takes me to the polar regions, in the never-ending search for the perfect excursion!
DATES: 2024 // Mar 30 to Apr 6 (NN24)
PRICE: 2024 // $7295 CAD p.p. (About $5,407 USD / €5,070 / £4,418)
PAYMENT SCHEDULE: 50% payment secures your booking; 100% due February 1, 2024
INCLUDED: 7 nights sailboat charter (s/v Noorderlicht) with crew, harbour fees, permit fees, UIAGM / IFMGA mountain guides, multi-course dinners, breakfast on board as well as lunch supplies. See description for full details.
NOT INCLUDED: Air travel, alcoholic beverages, hotel in Oslo en route, gratuities.