Fjords of Northern Norway Ski and Sail
Exploring the fjords and glaciers of Northern Norway
Fjords of Northern Norway is a two part adventure. Week 1 is our "Ski and Sail" program on board the Rembrandt van Rijn, when we explore the rugged coastline of Northern Norway, exploring the fjords and glaciated peaks that makes this region so famous. Week 2 is a "land-based" program, skiing the coastal mountains of the Lyngen Alps while staying in quaint mountain huts and/or hotels along the coast. Join us for either Week 1 or Week 2, or combine both for a true Nordic adventure of a lifetime!
Ski and Sail trips of course feature fantastic skiing accessible only by boat. But our Fjords of Northern Norway trip also offers an opportunity to experience Norwegian culture and traditions. Unlike Svalbard, which had no indigenous population or for that matter no history at all until the whaling expeditions a few hundred years ago, Northern Norway has been home to the Norse and indigenous Samí people for thousands of years. Archaeological records indicate that Tromsø has been inhabited for over 9,000 years! And whereas Svalbard is home to less than 3,000 inhabitants, Northern Norway has a population of close to 500,000. Most of the population lives in major towns such as Tromsø (capital of Troms County), Bodø (the capital of Nordland) and Vadsø (the capital of Finnmark), but there are many other small towns and villages especially along the coastline.
And of course there is the wildlife. There is no better way to experience the rich wildlife of Northern Norway than by sailboat. We'll keep a sharp eye out for puffins, sea eagles, walrus, arctic foxes, and even muskoxen. And it's not uncommon to share a ski run with a herd of galloping miniature reindeer!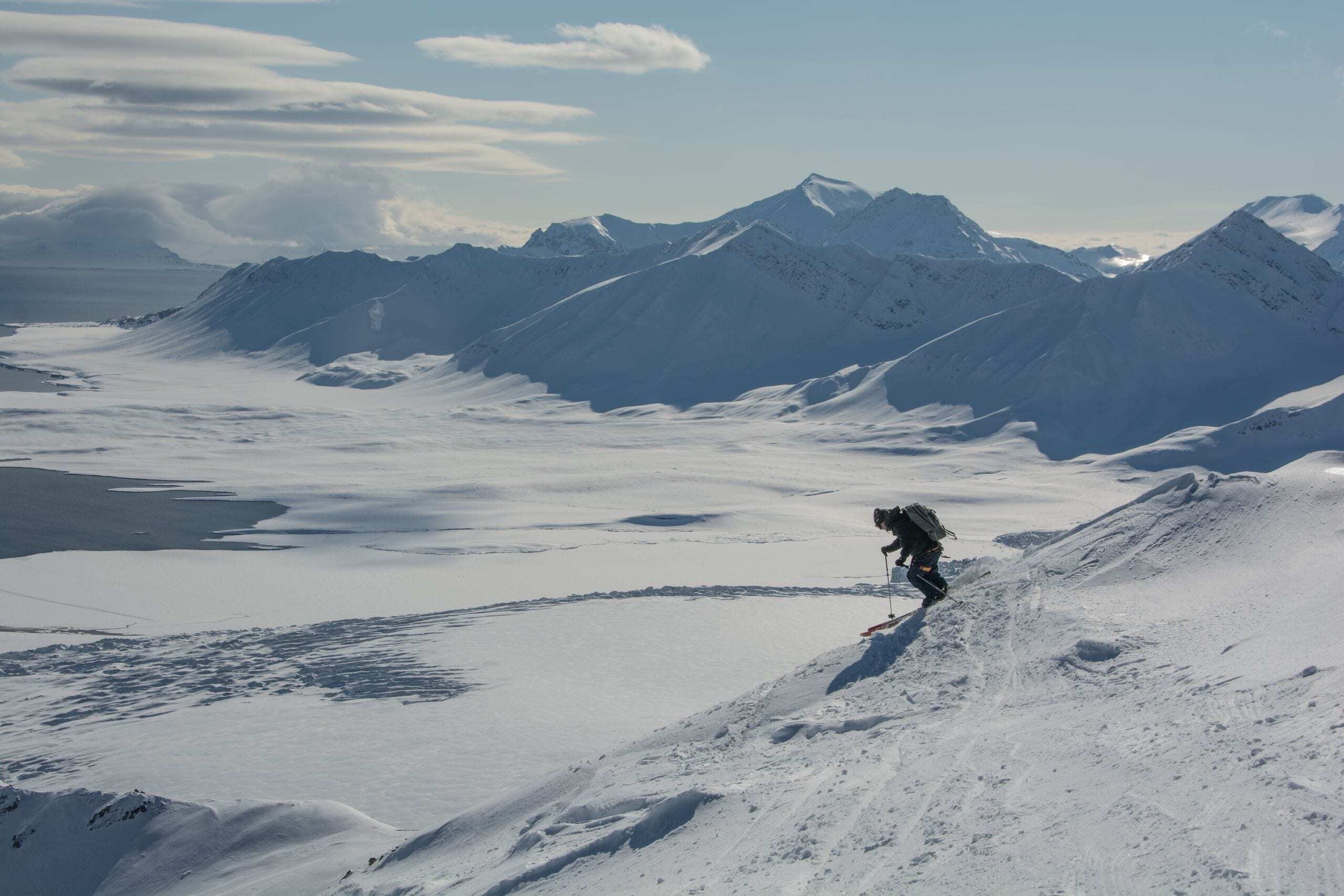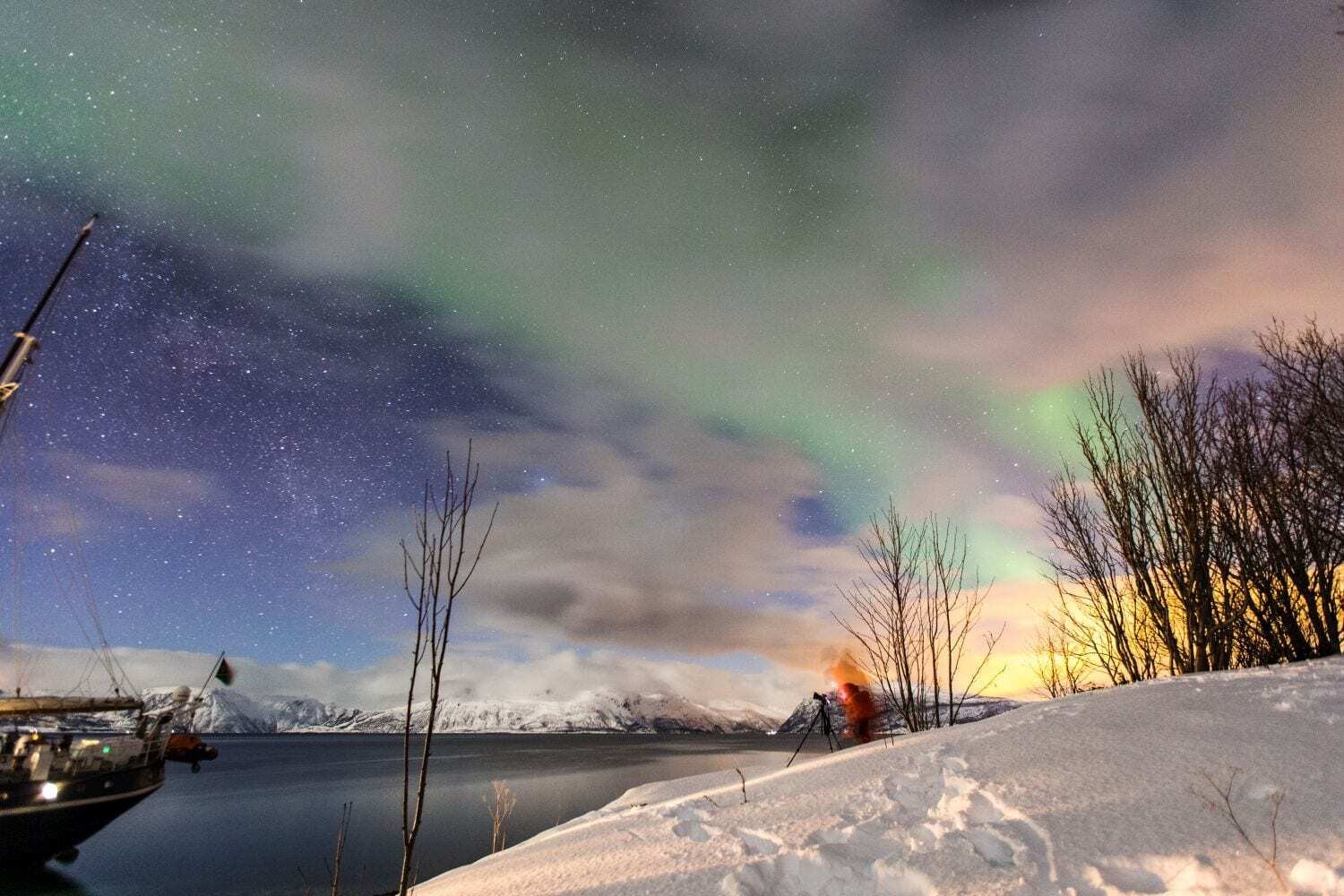 North Norway, Aurora borealis, Hike & Sail, March
North Norway, Aurora borealis, Hike & Sail, March
North Norway, Aurora borealis, Hike & Sail, March
North Norway, Aurora borealis, Hike & Sail, March
North Norway, Aurora borealis, Hike & Sail, March
North Norway, Aurora borealis, Hike & Sail, March
Humpbackwhale releasing air
Backcountry skiing – from a Sailboat!
We will based from a luxurious and spacious triple masted sailing yacht, the s/v Rembrandt van Rijn. This enables us to sample the best ski touring and ski mountaineering spots along the north coast of Norway. Given the long days in spring, there will not be any rush: our trip is scheduled just a few weeks before the Arctic midnight sun, and there is an amazing soft light around-the-clock that is unique to ski touring this far north. Our goal is to ski tour every day after lifting anchors in Tromsø. Our skiing days usually last from 5 – 9 hrs.
Northern Lyngen Alps Traverse
After getting our feet wet, so to speak, on our Ski & Sail adventure we will shift gears to our land based program. We'll spend the week skiing along the Lyngen coast, staying in a mix of small mountain huts as well as quaint hotels in the coastal towns. A great opportunity to experience the local Norwegian culture as well as see what spectacular glaciated tours are available from the road!
Photos, Resources and an Online Topo Map!
Do you want a better idea of what to expect from our Fjords of Northern Norway Ski and Sail trip? To start with, here's our 2020 Rembrandt van Rijn photo album. A great resource made available by the Norwegian Government is this topo map of Norway that lets you explore Norway's extensive attractions and amenities online. Finally, our 360° Virtual Tour is a great way to get a feel for what to expect when you step on board the s/v Rembrandt van Rijn.
Tom Wolfe (Mountain Guide ACMG/IFMGA) – Based in Canmore, Alberta in the Canadian Rockies since 1994 Tom guides year around, with winters being a mix of ski guiding at lodges, heli-ski operations, and remote backcountry destinations throughout western Canada. He speaks English, German, and enough French and Spanish to get by.
Joel McBurney (Ski Guide ACMG) – Residing in Nelson, BC with his wife and two boys, Joel spends the winter as a Lead Guide for Baldface Lodge in addition to Big Country Guiding trips. With over thirty years of backcountry experience, including two decades of guiding, he never tires of grabbing his skis or splitboard and heading out of a day in the mountains.
DATES AND PRICING:
Week 1: Fjords of Northern Norway Ski and Sail program: Saturday, April 8 to Saturday, April 15, 2023 $7290 CAD p.p. (About $5,703 USD / €5,421 / £4,506)
Week 2: Fjords of Northern Norway Land-based program: Saturday, April 15 to Saturday, April 22, 2023.  $2600 CAD p.p. (About $2,096 USD / €1,993 / £1,702)
Weeks 1 and 2 combined trip: Twin Berth Inside: $8800 CAD p.p. (About $7,040 USD / €6,692 / £5,716)
Twin Berth Portholes Upgrade: add $950 CAD p.p. (About $821 USD / €781 / £667).
PAYMENT SCHEDULE: 30% payment secures your booking; 60% due Oct 15, 2022; 100% due February 1, 2023
INCLUDED: Week 1: 7 nights three mast sailboat charter with crew, harbour fees, permit fees, UIAGM / IFMGA mountain guides, multi-course dinners, breakfast on board as well as lunch supplies. Week 2: Hut & hotel fees, all meals, ground transport, UIAGM / IFMGA mountain guides.
NOT INCLUDED: Air travel, alcoholic beverages, hotel in Oslo en route, gratuities.