The high traverse of the Purcell and Selkirk Ranges
The Bugs to Rogers traverse is arguably the most coveted ski traverse in Western Canada. It starts with the spectacular Bugaboos and continues across the beautiful northern section of the Purcells, finishing with a high line through the Selkirk Mountains to Rogers Pass. 
Along the way are numerous great alpine ski descents, big glaciers, limited amounts of valley bottom travel, occasional huts, and opportunities to climb some very remote peaks allow the way if conditions allow.  Mount Conrad, Mount Sugarloaf, Grand Mountain and Mount Wheeler are just some of the peaks that are accessible along the way.
Starting from Golden we will make a long flight into the Bugaboos area, making food cache drops on the way. From our dropoff we will traverse under the Bugaboo Spires and across the Vowell Glacier to the Malloy Glacier with a possible stop at the "Malloy Igloo".  Then up and over the Conrad Icefield, through the Crystalline Valley to reach Hume Pass and the Snowman Lakes. From here we cross below Mt Syphax into Malachite Creek before a steep climb takes us up onto the International Icefield (with some of the best views of the Rockies I have experienced) and a descent to the International Basin Hut. Traversing out of this valley past Mt David and into the Silent Pass area brings us to the end of week one.
The second half begins with a traverse across Silent Pass to headwaters of the Duncan and Beaver Rivers.  Then a big climb up Butters creek gets us into position for the high traverse across Mt Sugarloaf, Grand Mountain and Wheeler before dropping down onto the Deville Icefield.  A series of rappels off the end of the Deville brings us to the Glacier Circle Hut before a trip over the Illecillewaet Icefield puts us at Rogers Pass and a well deserved beer!
The traverse passes several huts and shelters along the way which can be used for cooking and/or sleeping in depending on group size and weather conditions and has many different options for travelling depending on weather and snow conditions.
This trip is not for the faint of heart and requires fortitude and skill to complete in good style.
The trip costs are outlined below and are based on a minimum of five people and a maximum 4:1 guest to guide ratio.
You might also be interested in our 7-day Northern Selkirks Traverse.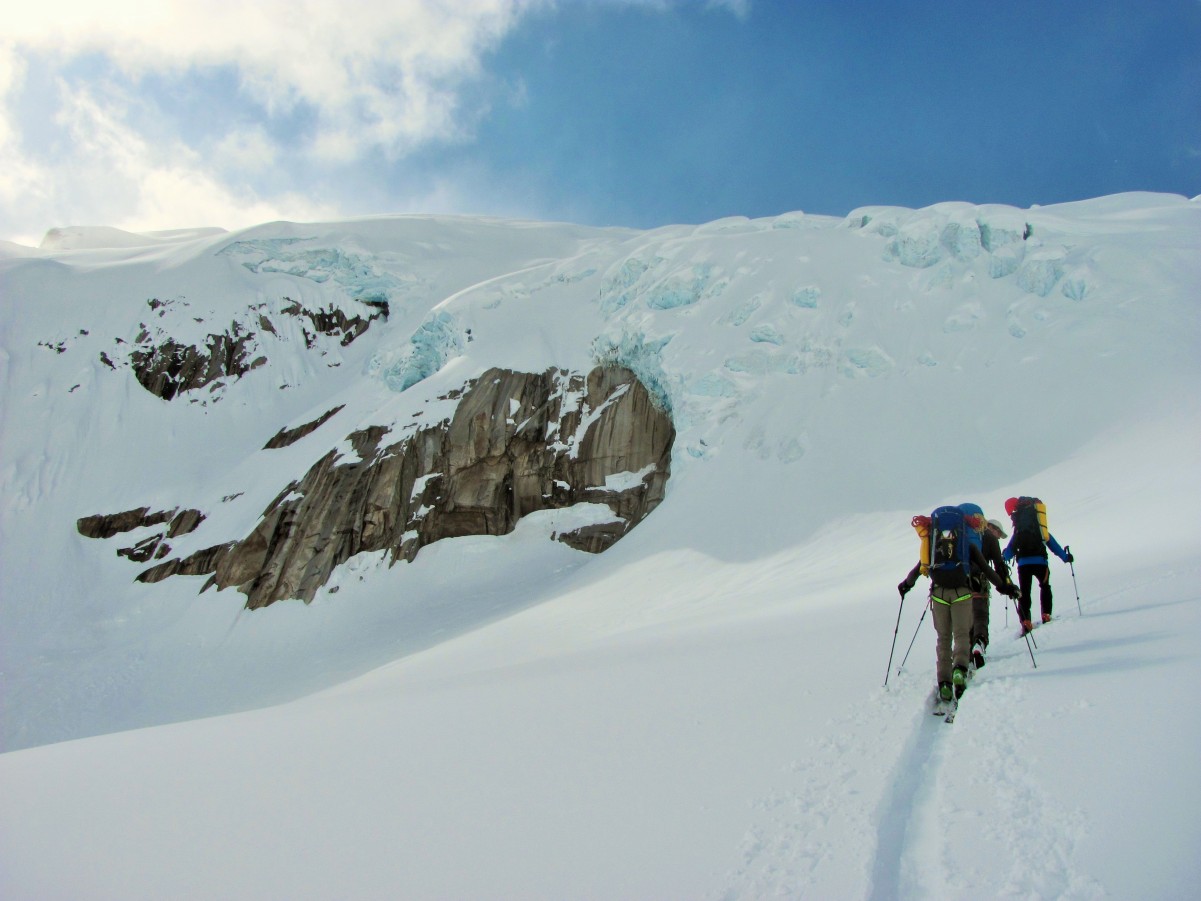 201404Bugs2RogersNGleesonIMG_27201
201404Bugs2RogersNGleesonIMG_27206
201404Bugs2RogersNGleesonIMG_27203
201404Bugs2RogersNGleesonIMG_27202
201404Bugs2RogersNGleesonIMG_27207
201404Bugs2RogersNGleesonIMG_27204
201404Bugs2RogersNGleesonIMG_27208
201404Bugs2RogersNGleesonIMG_27209
201404Bugs2RogersNGleesonIMG_272010
201404Bugs2RogersNGleesonIMG_272011
201404Bugs2RogersNGleesonIMG_272012
201404Bugs2RogersNGleesonIMG_272013
201404Bugs2RogersNGleesonIMG_272014
201404Bugs2RogersNGleesonIMG_272015
201404Bugs2RogersNGleesonIMG_272016
201404Bugs2RogersNGleesonIMG_272017
201404Bugs2RogersNGleesonIMG_272018
201404Bugs2RogersNGleesonIMG_272019
201404Bugs2RogersNGleesonIMG_272020
201404Bugs2RogersNGleesonIMG_272023
201404Bugs2RogersNGleesonIMG_272024
201404Bugs2RogersNGleesonIMG_272025
201404Bugs2RogersNGleesonIMG_272027
201404Bugs2RogersNGleesonIMG_272028
201404Bugs2RogersNGleesonIMG_272031
201404Bugs2RogersNGleesonIMG_272032
201404Bugs2RogersNGleesonIMG_272033
201404Bugs2RogersNGleesonIMG_272034
201404Bugs2RogersNGleesonIMG_272035
201404Bugs2RogersNGleesonIMG_272036
201404Bugs2RogersNGleesonIMG_272037
201404Bugs2RogersNGleesonIMG_272038
201404Bugs2RogersNGleesonIMG_272039
201404Bugs2RogersNGleesonIMG_272040
201404Bugs2RogersNGleesonIMG_272047
201404Bugs2RogersNGleesonIMG_272041
201404Bugs2RogersNGleesonIMG_272042
201404Bugs2RogersNGleesonIMG_272048
201404Bugs2RogersNGleesonIMG_272044
201404Bugs2RogersNGleesonIMG_272049
201404Bugs2RogersNGleesonIMG_272045
201404Bugs2RogersNGleesonIMG_272050
201404Bugs2RogersNGleesonIMG_272046
201404Bugs2RogersNGleesonIMG_272051
201404Bugs2RogersNGleesonIMG_272052
201404Bugs2RogersNGleesonIMG_272053
201404Bugs2RogersNGleesonIMG_272054
201404Bugs2RogersNGleesonIMG_272057
201404Bugs2RogersNGleesonIMG_272058
201404Bugs2RogersNGleesonIMG_272060
201404Bugs2RogersNGleesonIMG_272061
201404Bugs2RogersNGleesonIMG_272062
201404Bugs2RogersNGleesonIMG_272063
201404Bugs2RogersNGleesonIMG_272064
201404Bugs2RogersNGleesonIMG_272065
201404Bugs2RogersNGleesonIMG_272066
201404Bugs2RogersNGleesonIMG_272067
201404Bugs2RogersNGleesonIMG_272068
201404Bugs2RogersNGleesonIMG_272069
201404Bugs2RogersNGleesonIMG_272070
201404Bugs2RogersNGleesonIMG_272071
201404Bugs2RogersNGleesonIMG_272072
201404Bugs2RogersNGleesonIMG_272073
201404Bugs2RogersNGleesonIMG_272075
201404Bugs2RogersNGleesonIMG_272076
201404Bugs2RogersNGleesonIMG_272077
201404Bugs2RogersNGleesonIMG_272078
201404Bugs2RogersNGleesonIMG_272079
201404Bugs2RogersNGleesonIMG_272082
201404Bugs2RogersNGleesonIMG_272083
201404Bugs2RogersNGleesonIMG_272084
201404Bugs2RogersNGleesonIMG_272085
201404Bugs2RogersNGleesonIMG_272086
201404Bugs2RogersNGleesonIMG_272088
201404Bugs2RogersNGleesonIMG_272089
201404Bugs2RogersNGleesonIMG_272090
201404Bugs2RogersNGleesonIMG_272091
201404Bugs2RogersNGleesonIMG_272093
201404Bugs2RogersNGleesonIMG_272094
201404Bugs2RogersNGleesonIMG_272095
201404Bugs2RogersNGleesonIMG_272096
201404Bugs2RogersNGleesonIMG_272097
201404Bugs2RogersNGleesonIMG_272098
201404Bugs2RogersNGleesonIMG_2720100
201404Bugs2RogersNGleesonIMG_2720105
201404Bugs2RogersNGleesonIMG_2720106
201404Bugs2RogersNGleesonIMG_2720109
201404Bugs2RogersNGleesonIMG_2720110
201404Bugs2RogersNGleesonIMG_2720111
201404Bugs2RogersNGleesonIMG_2720112
201404Bugs2RogersNGleesonIMG_2720114
201404Bugs2RogersNGleesonIMG_2720115
201404Bugs2RogersNGleesonIMG_2720117
DATES: Contact us for details
PRICE: $4750 CAD per person + GST
PAYMENT SCHEDULE: 50% deposit due upon booking; balance due Jan 16
INCLUDED: Flights into Applebee Campground in the Bugaboos and ground transport back from Rogers Pass at the end of the week; at least two food caches along the way to help keep pack weights reasonable (probably three); guiding fees and permits; food, tents, group gear for camping, ropes and emergency gear. See below for more details.