Canada's northernmost ski lodge is also our favourite
Newly renovated – fully restored and expanded
2024 // FEB 16-23 (sold out) / FEB 23-MAR 1 (sold out)
2025 // JAN 31-FEB 7 (9 spots) / FEB 7-14 (SOLD OUT) / MAR 7-14 (sold out)
Burnie Glacier Chalet is located near Smithers in northern British Columbia. It has spectacular, rugged alpine terrain with beautiful ski runs that range in nature from gentle glacier runs that can be done in most conditions to steep tree runs for high hazard days, to incredible ski mountaineering trips high into the alpine.
The Chalet is a simple but beautiful timber frame building, warmed by a beautiful wood burning kitchen stove with spectacular views of the towering Hut Peak, Burnie Glacier, Solitaire Ski Peaks and Lakehead Peak. It was built by Christoph Dietzfelbinger and a team of friends in the early 2000s. With the 2022 renovation Burnie now has five bedrooms, 4 doubles and 1 triple, as well as an expanded communal space and kitchen.
Burnie Glacier Chalet is perfectly situated for ski touring below the Burnie and Solitaire Glaciers and offers quick access to 700 m tree runs and 1400 m glacier runs that rise directly from the Chalet. In fact most of the runs ski right back to the Chalet with no uphill travel at the end of the day!
Here's a great Trip Report by Lee Lau on our March 2019 Burnie trip!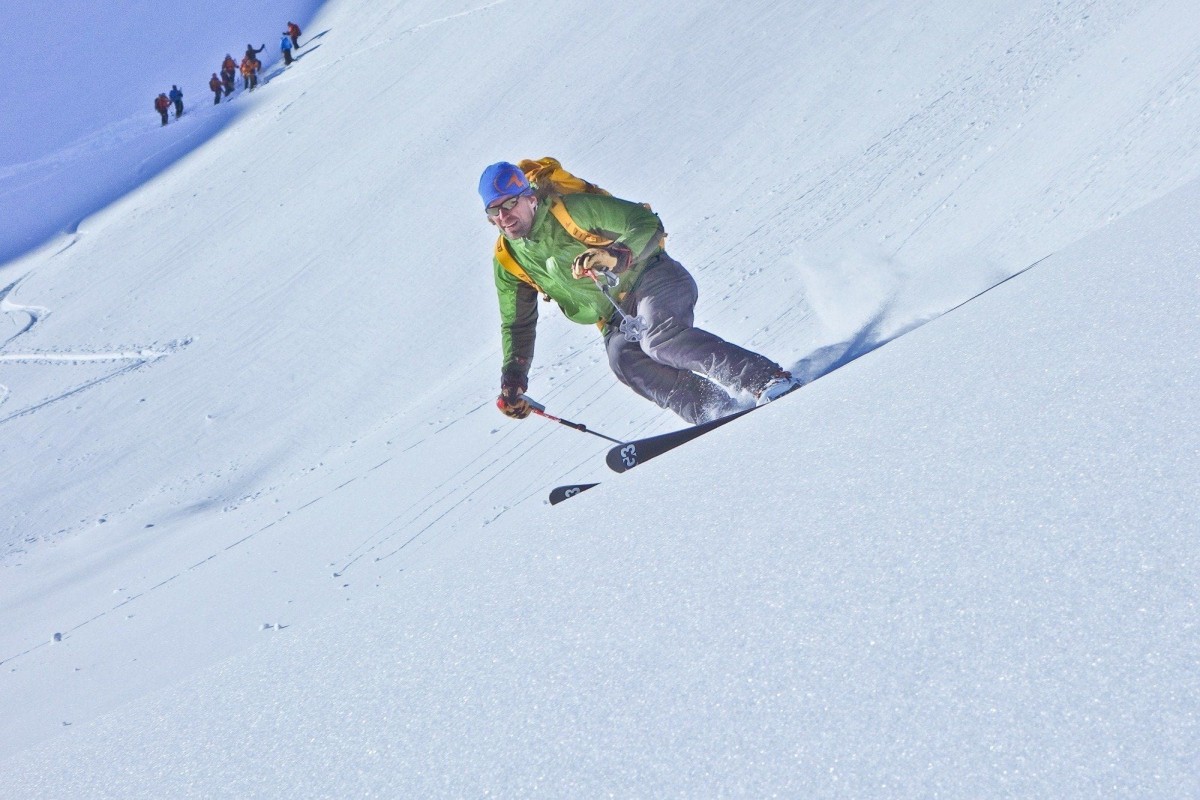 Standing atop Middle Solitaire
Standing atop Middle Solitaire
Skiing down the Burnie Glacier
Heading up to the Burnie Step
Heading up to the Burnie Step
Heading up to the Burnie Step
Standing on top of the Burnie Step
Gaining the Upper Burnie Glacier
Starting out for Loft Peak
Standing on top of Loft Peak
Looking back at the Chalet
Videos of Burnie!
I have to point out that Burnie does have running water, despite the bucket carrying scene in the first video…
DATES: 2025 // Jan 31-Feb 7 (BG25-1), Feb 7-14 SOLD OUT (BG25-2), Mar 7-14 SOLD OUT (BG25-3).
2024 is sold out
2025 PRICING: $3895 CAD (About $2,824 USD / €2,647 / £2,311) + 5% GST.
DEPOSIT: 50% payment secures your booking. Balance of payment is due 3 months in advance of trip start date.
DIFFICULTY: Classic Pace. Requires solid ski skills and good fitness.
INCLUDED: Guiding, food, lodge fees, airport shuttle, group gear
NOT INCLUDED: Transportation to Smithers, personal equipment, gratuities.