Soft Selkirk Powder at Golden Sunrise
Sunrise Lodge is located at the headwaters of Wisted creek and offers stunning views of Rockies to the west and Purcells to the south. Sunrise is the southern gateway to the amazing Esplanade range, including Meadow, Vista and Sentry Lodges. Consensus among those who've spent time at all four Esplanade Range Huts though is that Sunrise is the best: best terrain, best for storm skiing, and best snowpack of the bunch!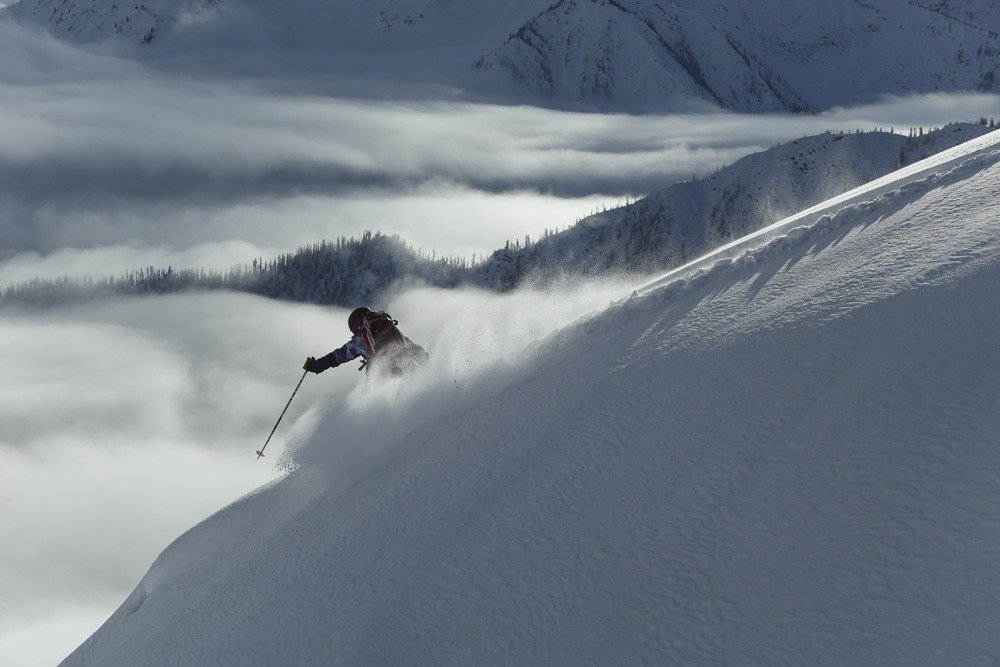 Dates:
Saturday, Feb 9 to Saturday, Feb 16 2019
Price: $2,350 CAD (Currently $1,937 USD / €1,612 / £1,431) + 5% GST
Deposit: 50% payment secures your booking. Balance of payment is due 9 November 2018. See Payment and Booking Conditions tab for details.
Difficulty:
Day trips, hut-based
Hut elevation 2134 m with 1200-1500 m/day tours on average (Relaxed Pace trip)
Non-glaciated terrain
Powder skiing
Fantastic skiing, close to home
One of the best features of Sunrise Lodge is how easy it is to get to. Staging is just a few metres off the Trans Canada Highway 20 minutes from Golden, BC. For those of you coming from Alberta and eastern BC -- there's no easier lodge to get to.
And of course there's the skiing. One of the closest tenures to the world-famous Rogers Pass, Sunrise is home to some great Selkirk skiing -- minus the crowds! You can expect lots of alpine, treeline and tree lines here, with everything from gentle open slopes to steep pillow lines. Our last trip to Sunrise in 2017 was a big hit and so I'm happy to be offering another one for 2019!
Sunrise Lodge is located at the headwaters of Wisted Creek and offers stunning views of Rockies to the west and Purcell's to the south. Sunrise is the southern gateway to the amazing Esplanade Range
1200 square feet. Sleeps up to 16 people per night (12 guests, 4 staff)

6 guest bedrooms / 2 guide bedrooms

Services:  2 outhouses, wood / propane heat, radio, limited cell coverage, water from Sunrise Lake, Heli pad

Full cellular coverage at Sunrise Lodge and in most places near the lodge

Brand new sauna built in 2014

Full solar upgrade in 2013 provides task lighting in all rooms of the lodge

New super high energy efficient Blaze King "Princess" fireplace installed in 2015
The lodge is equipped with AC power but does not WiFi/internet access at all. It also has a wonderful sauna for the end of the day. Beer and wine are not provided, but feel free to bring your own.
Logistics
Getting to Golden, BC, Meeting Place, Staging Info
If you are flying from out of town the most convenient international airport is Calgary, about 3 hours east Golden.
Other options for flying include Kelowna (about 4 hours drive west of Golden) or Cranbrook (2h45 south of Golden). Driving from Vancouver to Golden takes about 7h30, from Spokane the drive is around 6 hours. There is a regional airport in Golden but it only handles very small charter aircraft.
Kicking Horse River Lodge is a great place to stay the Friday night before the trip. They can handle a group with room rates that start from around $40/night. Sorcerer customers get a discount but in order to get that you must phone them directly. They cannot offer this if you book through an agency such as booking.com. It's a nice timber frame building on the Kicking Horse River. We meet here Saturday night and breakfast is here Sunday morning so it is convenient. If you choose to stay here please book early. It fills quickly. http://www.khrl.com/aw  1-250-439-1112
The meeting place for your trip is at the Golden Alpine Holidays office  at 104, 806 - 9th Street North. Your meeting time is at Saturday, Feb 9, 2019 at 7:00 am Mountain Standard Time (MST). You are expected to sign your waiver at this time.  Flights to GAH lodges take place at our Helicopter Staging Facility  west of Golden. Guests are required to get themselves to GAH Staging.
Equipment List
Packing Notes:
We do not provide any alcoholic beverages, however you are welcome to bring some along with you. Bring beer in cans. Small kegs are fine – no giants. We do suggest you bring your alcohol with you to Golden, as it's a tad expensive here in small town BC. Pack your "stuff" directly into your daypack and a small – medium duffle bag, 60 litres max. Please avoid using the large duffle bags/packs and anything with wheels or hard sides, as they are awkward to handle and difficult to load into the helicopter.
We supply all linen and quilts so you don't need a sleeping bag. BRING TOWELS. Skis are best left out of bags, bundled together with a ski strap.
Shovels should be loose outside your pack if they don't completely fit inside with the hard edges all covered. Ice axes are left loose and will go in the ski basket for transport. Please don't attach them to your pack. They can punch holes in the thin skin of the helicopter's cargo areas. You are advised to dress for skiing when you get on the helicopter so you should have your ski boots on and all other footwear packed safely in your bags. It's too easy to lose a single boot in all the powder that will be blowing around and you want to start out with dry feet.
Sunrise Lodge – Ski Touring – Equipment List
Clothing
 Wool or synthetic socks and liner socks

 Long underwear top – synthetic or wool

 Light fleece or wool sweater

 Wind shell – nylon or 'Schoeller' type jacket

 Waterproof breathable jacket

 Warm insulated jacket – down or synthetic

 Long underwear bottoms – synthetic or wool

 Multipurpose stretch nylon or 'Schoeller' type pants

 Waterproof breathable pants

 Warm hat – wool or synthetic

 Brimmed cap for sun protection

 Face warmer – scarf, neck tube or balaclava (optional)

 Light gloves – wool, synthetic or leather

 Insulated gloves or mitts with waterproof outer shell

 Spare gloves or mitts

 Handkerchief for blocking the sun (optional)
Snow Safety Equipment
 Avalanche beacon with good batteries (and spares)

 Shovel

 Probe (2.4m or longer preferred)
Travel Equipment
 Skis or split board

 Ski strap

 Ski or snowboard boots

 Poles

 Climbing skins

 Skin wax (or a candle)

 Ski crampons (mandatory)

 Binding repair kit to fix your personal travel setup

 Ski helmet (optional)
Personal Equipment
 Pack (30-40 litres)

 Sunglasses (both orange and dark lenses help a lot for travel in all conditions)

 Goggles (orange lenses)

 Sunscreen and lip cream (SPF 30+)

 Head lamp with good batteries

 Insulated water bottle or thermos (1-2 L)

 Lunch bag or container

 Personal blister kit (i.e: Leukotape-P and Compeed/Second Skin blister pads)

 Pocket knife (optional)

 Camera (optional)
Hut Gear
 Duffle bag for flying into the lodge

 Shoes or sandals

 Winter boots for travel to the outhouse (boots at the hut for you to use as well if you prefer)

 Hut clothing

 1-2 Towels and swimsuit for sauna

 Personal medications and toiletries

 Ear plugs

 Reading material

 Chargers for electronic devices (normal AC power is available via micro-hydro)
Note the following are provided:
  Pillows and duvets supplied at the lodge
Misc
Group Gear (supplied by the guides)
 Altimeter

 Map and compass

 GPS

 Snow study kit

 Snow and/or bush saw

 First aid kit

 Emergency tarp

 Emergency toboggan

 Group repair kit

 Radio & satellite phone

 Ropes for glacier travel
Booking & Payment
Payment, Booking Conditions
Please use our Online Registration Form before proceeding with any payment. It's a two-step process, requiring you to read through and sign the waiver first, and then collects your personal information securely. If you have any questions or do not understand anything to do with the waiver or application form please contact me at twolfe@sawback.com asap.

A deposit (typically 50%; see the trip description for the exact amount) to secure your place is  due upon booking. Final payment of balance is due 3 months in advance of your trip start date. You will be invoiced for your payments after you have confirmed your interest in the trip. Please note that deposits are absolutely non-refundable, and final payments (the remainder) are non-refundable after the final payment date.
Credit Card payments are encouraged, especially if you have a card with trip cancellation insurance! Charges are made in CAD (foreign payments are converted to your local currency at your card company's rate). We charge an additional 3.5% fee for card transactions. If your credit card provides you with cancellation insurance for this trip indicate this on your registration form and we will lower the convenience fee to 2%.  Cancelled trips that have cancellation insurance are much less of a headache for everyone. Please consider this option. It could be a very affordable way to protect yourself. But look carefully into your credit card's fine print to make sure this trip is covered.
Non Credit Card Payments from Canadian clients: If you do not wish to pay by credit card we ask that you pay by E-transfer, sent to twolfe@sawback.com. There is no additional fee for Canadian E-transfers.
Non Credit Card Payments from outside Canada (US, Europe, other countries):
Third party electronic transfer: You will need to fill out an agreement with our currency broker, Ken Fukami from Payline in Canmore, that includes your banking information to coordinate an electronic transfer (SEPA, EFT, etc.) There is no charge for this service and it is $50-100 cheaper than all other methods of payment from foreign clients. Contact us, or visit Payline's website for details.
PayPal: send money via PayPal to twolfe@sawback.com. No charge to receive PayPal payments so long as they are complete and in CAD funds.
Wire draft (bank to bank): Your bank wires our bank the money in CAD. We charge a $20 CAD fee for receiving these payments.
Cheque: in either CAD or in your local currency (e.g. EUR or USD) at a rate that we agree on (see Royal Bank of Canada's Currency Conversion for current rates used). No additional fee for cheque payments.
Mailing address: Please send cheques in CAD to Thomas Wolfe, 234 Grizzly Cr, Canmore, AB T1W1B5, Canada
All fees paid are 100% non-refundable. We cannot be held liable for cancellations of any kind. Therefore we strongly recommend that you purchase trip cancellation and evacuation insurance to protect you in the event that you need to cancel or there is an emergency during your trip. The Alpine Club of Canada and Lifetstyle Financial (BCLBC Plan) both offer plans for trips like this that might interest you although we can't personally vouch for them. Note that many credit cards carry this insurance for trips paid with the credit card — contact your credit card company to be sure.
You must sign our Waiver of Liability in order to register for participation in our trips. You can view a printable copy the waiver here: English Waiver and translated into several other languages (German, French and Japanese) here: Translated Waivers.  If you have any questions about the waiver please talk to your lawyer and/or let me know prior to registration so I can help you.
The application form collects personal information which I use to make sure that I provide you with the best possible trip experience. If you do not want to answer any of the questions or you are unsure about anything leave it blank and/or contact me for clarification.
Snow & Climate
Snowpack and Climate
It begins in September when cool moisture laden clouds stack up along the west edge of the Selkirk Mountain Range. Snow starts piling up as clouds are forced up and over the crests of the 3000 meter and higher elevations.  At GAH which operates in the Esplanade Range in British Columbia, major storm tracks help to funnel in the powder. Another key to the quality of the snow is proximity to the colder/dryer areas near the Rocky Mountain Trench which means more sun and lighter powder than the western portions of the province which tend to receive much more rain.
Meteorological data gathered over 6 seasons show that day time temperatures in the Esplanade Range are very stable and rarely if ever rise above zero during the winter season.
The Esplanade range has a typical settled, mid winter snow pack depth of 4 meters (over 50 meters cumulative snowfall) and a 200+ day season
Other Info
Staff
Staff
Tom Wolfe (Mountain Guide ACMG/IFMGA) has been guiding since moving to Canmore in 1995, the place he calls home with wife, son and daughter. He guides year around, with winters being a mix of ski guiding at lodges, heli-ski operations, and remote backcountry destinations throughout western Canada.
Ian Kirschner (Ski Guide, ACMG) has been ski guiding out of Golden for about 15 years. Ian mixes his time between guiding and working as a professional avalanche forecaster with BC Highways. Tom and Ian met during their guides' exams and did many trips and courses together!
Finally, your week at Sunrise includes superb meals. These are prepared by our gracious chef, Michelle Heerschop, who consistently amaze guests with her beautiful, tasty, and abundant food. We are happy to accommodate special diets (additional fee applies).
Our goal is to provide you with the best skiing possible in the comfort and ease of a fully catered backcountry chalet.