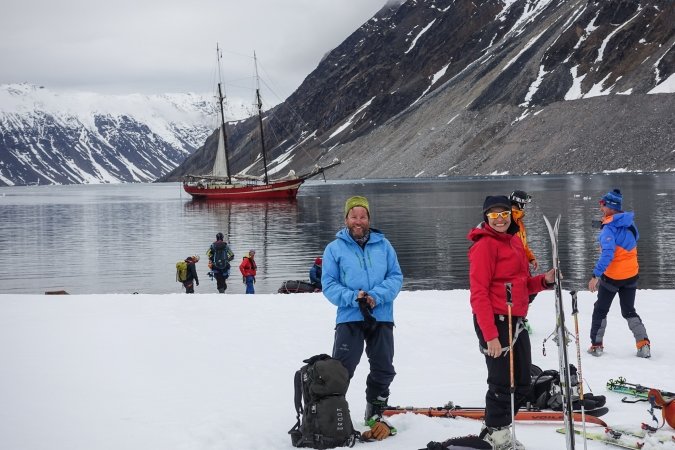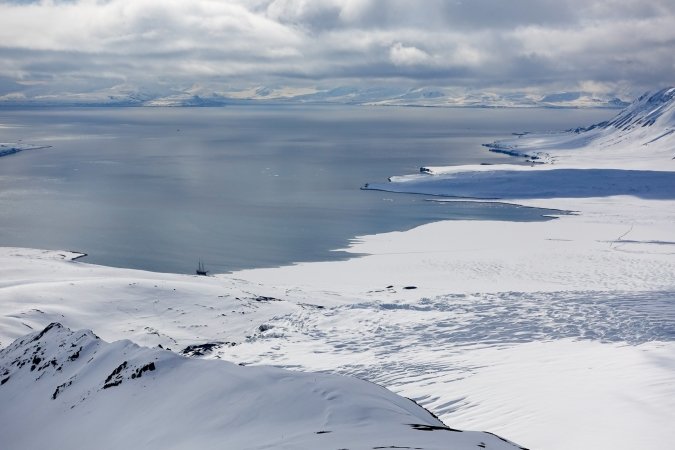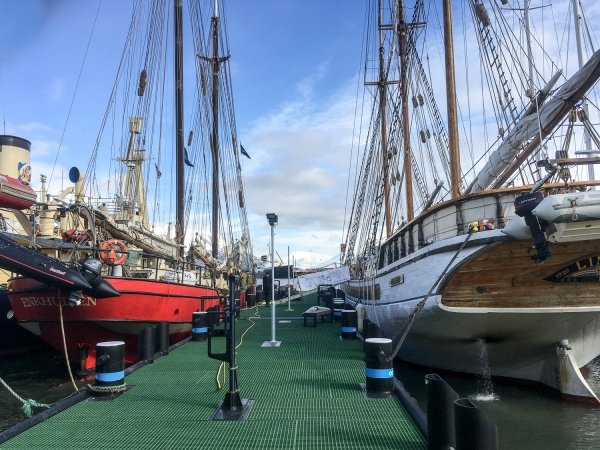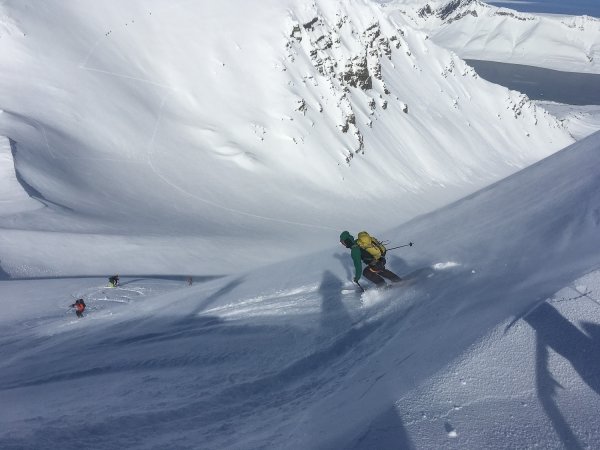 Ski Touring with the Midnight Sun
A truly exploratory ski touring expedition in the rugged mountains of Spitsbergen the only (barely) populated island in the Svalbard archipelago of about 60 islands in the Arctic Ocean north of Norway at a Latitude of 79-80º. Few spots in this world are as remote and wild as Spitsbergen, not to mention all the wildlife and glaciated peaks that offer world class skiing. Our Svalbard Ski and Sail 2019 expedition is a journey into one of the most remarkable ski touring destinations in the world.
Dates: Sunday, May 19 to Wednesday, May 29, 2019
Price: $7,690 CAD/person (Currently $6,149 USD / €5,038 / £4,520). Zero-rated tax (no GST).
Deposit: 30% payment secures your booking; 60% due September 1, 2018; balance (full payment) due February 1, 2019
Skiing from a Sailboat
We will base from a comfortable and spacious double masted gaff-rigged sailing yacht, the beautiful S/V Noorderlicht (Dutch for "Northern Lights"). This enables us to sample the best ski touring spots along the west coast of Spitsbergen. Given the long days in spring, there will not be any rush: around the clock the midnight sun provides an amazing soft light that is unique to ski touring this far north. Our goal is to ski tour every day after lifting anchors in Longyearbyen. Our skiing days usually last from 5 – 9 hrs. Due to the presence of polar bears, the guides will be carrying bear deterrents and firearms during the ski touring days. All in all an amazing adventure – a trip of a lifetime!
For our guests who want to spend more time in this amazing area, we include an optional 3-day pre-trip extension to do ski tours and / or a snow mobile tour based in the town of Longyearbyen, the main town of Spitsbergen. At 870 km distance to the North Pole, Longyearbyen is the northern most town in the world, has about 2000 inhabitants, several nice hotels, a small town center with bars, restaurants, shops and a great arctic history museum. Usually, we can put on our skis at the hotel to explore nearby peaks and glaciers.
Trip report and Photos
To get a better idea of what to expect from our Svalbard Ski and Sail 2019 trip, please check out my Svalbard photo album and my blog post about this year's amazing Ski & Sail adventure.
Reviews from Svalbard 2018
This response will sound a little cliche, but I really don't think I would change a thing about this trip.
Jörg and Tom are true professionals. If you were on the fence about going on a trip and then found out that Jörg and/or Tom were guiding...you'd go!
The itinerary was great. Every location we stopped and toured had its own special feel. I truly enjoyed every day in this region. The stop to see the walrus and the night in Barentsburg/midnight skiing rounded the days out into memorable side trips.
The Noorderlicht was wayyyy better than expected. The boat and the crew were a welcome sight at day's end. Gabrielle always had a snack/soup ready for us...beer fridge was stocked. What else could you ask for. The food was amazing...I enjoyed every meal.
The only drawback to this trip is that it will now be the benchmark for all future similar excursions. I am always prepared to be a bit uncomfortable on ski/climbing trips but man, we were spoiled.
This trip was a 10 in my book. Throw in Jörg, Tom and our whole like-minded group...I could bump it to an 11.
Logistics
Svalbard Ski and Sail Logistics
This year's Svalbard Ski and Sail trip starts in Longyearbyen on Svalbard. There are at least 3 flights daily to Longyearbyen from Oslo, Norway.
If you choose to only participate in the boat portion of this trip, you must arrive in Longyearbyen at the latest on Wednesday, May 22. We will be boarding the boat at around 4:00 pm.
There is an optional 3 days of ski touring offered May 20-22. If you arrive in Longyearbyen on May 19 then you can participate in all three pre-sail ski tours, but you can also arrive later than that if you like. Please advise us of your intentions so we can make hotel bookings and other arrangements.
When you book your return flight, the best option is to fly with a morning or mid-day flight from Longyearbyen on Wednesday, May 29.
Inclusions:
7 nights yacht rental with crew, harbour fees, permit fees, UIAGM / IFMGA mountain guides, multi-course dinners and breakfast on board. Pre-trip extension: 3 additional days of town based ski touring and excursions, 3 x Hotel B&B in Longyearbyen (included in trip fee).
Not included:
Air travel, alcoholic beverages, lunches and dinners in Longyearbyen, hotel in Oslo en route
Difficulty
Difficulty
Day trips out of Longyearbyen for the first 3 days; remainder based out of the sailing boat.
Tours range from sea level to 800+ m ASL,
Tour lengths are 1100-1500+ m and 10-20 km travel/day.
Glaciated terrain
Ski mountaineering
Equipment List
Packing Notes
You need to bring all of the following personal equipment. Please don't bring extra equipment. If you have any questions at all about gear please do not hesitate to contact us.
Ski crampons are a must for spring ski touring on Svalbard. If you have any difficulty obtaining these please let me know. We have some spares and can likely set you up with a pair. If you have telemark bindings, G3 crampons have an attachment system that works well for most tele bindings.
Svalbard Ski & Sail – Equipment List
Clothing
 Wool or synthetic socks and liner socks
 Long underwear top – synthetic or wool
 Light fleece or wool sweater
 Wind shell – nylon or 'Schoeller' type jacket
 Waterproof breathable jacket
 Warm insulated jacket – down or synthetic
 Long underwear bottoms – synthetic or wool
 Multipurpose stretch nylon or 'Schoeller' type pants
 Waterproof breathable pants
 Warm hat – wool or synthetic
 Brimmed cap for sun protection
 Face warmer – scarf, neck tube or balaclava (optional)
 Light gloves – wool, synthetic or leather
 Insulated gloves or mitts with waterproof outer shell
 Spare gloves or mitts
 Handkerchief for blocking the sun (optional)
Snow Safety Equipment
 Avalanche beacon with good batteries (and spares)
 Shovel
 Probe (2.4m or longer preferred)
Travel Equipment
 Skis or split board
 Ski strap
 Ski or snowboard boots
 Poles
 Climbing skins
 Skin wax (or a candle)
 Ski crampons (mandatory)
 Binding repair kit to fix your personal travel setup
 Ski helmet (optional)
Personal Equipment
 Pack (30-40 litres)
 Sunglasses (both orange and dark lenses help a lot for travel in all conditions)
 Goggles (orange lenses)
 Sunscreen and lip cream (SPF 30+)
 Head lamp with good batteries
 Insulated water bottle or thermos (1-2 L)
 Lunch bag or container
 Personal blister kit (i.e: Leukotape-P and Compeed/Second Skin blister pads)
 Pocket knife (optional)
 Camera (optional)
Glacier Gear
 Harness – fitted for over your ski clothing
 Locking carabiners (x2)
 Non-locking carabiners (x2)
 Prussik cord – 5m x 6mm (optional)
 Sewn sling – 120cm (optional)
 Lightweight ice axe (optional, don't bring if you don't have one or don't like steep skiing)
On the Sailing Boat
Duffle bag to contain your clothes in your berth
Shoes
High rubber boots for entering/exiting the dinghy
Comfortable clothing
Personal medications and toiletries
Ear plugs
Reading material
Chargers & adapters for electronic devices (normal AC power is available as 220V Euro plug)
Norwegian cash in NOK or Euros to pay for your beer tab, souvenirs, and tips/gratuities
Note the following are provided:
Beer and wine are available to purchase on the boat at a reasonable price — cheaper than purchasing at Norwegian/Svalbardan prices in Longyearbyen
Pillows and duvets supplied in the boat
Group Gear (supplied by the guides)
 Altimeter
 Map and compass
 GPS
 Snow study kit
 Snow and/or bush saw
 First aid kit
 Emergency tarp
 Emergency toboggan
 Group repair kit
 Radio & satellite phone
 Ropes for glacier travel
Booking & Payment
Booking & Payment
Our Svalbard Ski and Sail trip has a special payment schedule: 30% deposit to secures your booking; 30% payment 6 months in advance and the balance paid 3 months in advance. The exact details will be confirmed upon registration.
Payment, Booking Conditions
Please use our Online Registration Form before proceeding with any payment. It's a two-step process, requiring you to read through and sign the waiver first, and then collects your personal information securely. If you have any questions or do not understand anything to do with the waiver or application form please contact me at twolfe@sawback.comasap.
A deposit (typically 50%; see the trip description for the exact amount) to secure your place is  due upon booking. Final payment of balance is due 3 months in advance of your trip start date. You will be invoiced for your payments after you have confirmed your interest in the trip. Please note that deposits are absolutely non-refundable, and final payments (the remainder) are non-refundable after the final payment date.
Credit Card payments are encouraged, especially if you have a card with trip cancellation insurance! Charges are made in CAD (foreign payments are converted to your local currency at your card company's rate). We charge an additional 3.5% fee for card transactions. If your credit card provides you with cancellation insurance for this trip indicate this on your registration form and we will lower the convenience fee to 2%.  Cancelled trips that have cancellation insurance are much less of a headache for everyone. Please consider this option. It could be a very affordable way to protect yourself. But look carefully into your credit card's fine print to make sure this trip is covered.
Non Credit Card Payments from Canadian clients: If you do not wish to pay by credit card we ask that you pay by E-transfer, sent to twolfe@sawback.com. There is no additional fee for Canadian E-transfers.
Non Credit Card Payments from outside Canada (US, Europe, other countries):
Third party electronic transfer: You will need to fill out an agreement with our currency broker, Ken Fukami from Payline in Canmore, that includes your banking information to coordinate an electronic transfer (SEPA, EFT, etc.) There is no charge for this service and it is $50-100 cheaper than all other methods of payment from foreign clients. Contact us, or visit Payline's website for details.
PayPal: send money via PayPal to twolfe@sawback.com. No charge to receive PayPal payments so long as they are complete and in CAD funds.
Wire draft (bank to bank): Your bank wires our bank the money in CAD. We charge a $20 CAD fee for receiving these payments.
Cheque: in either CAD or in your local currency (e.g. EUR or USD) at a rate that we agree on (see Royal Bank of Canada's Currency Conversion for current rates used). No additional fee for cheque payments.
Mailing address: Please send cheques in CAD to Thomas Wolfe, 234 Grizzly Cr, Canmore, AB T1W1B5, Canada
Insurance
All fees paid are 100% non-refundable. We cannot be held liable for cancellations of any kind. Therefore we strongly recommend that you purchase trip cancellation and evacuation insurance to protect you in the event that you need to cancel or there is an emergency during your trip. The Alpine Club of Canada and Lifetstyle Financial (BCLBC Plan) both offer plans for trips like this that might interest you although we can't personally vouch for them. Note that many credit cards carry this insurance for trips paid with the credit card — contact your credit card company to be sure.
Waiver
We have an online Waiver of Liability that you will need to sign in order to register for participation in the ski trip. You can view a printable copy the waiver here: English Waiver and translated into several other languages (German, French and Japanese) here: http://acmg.ca/03public/resources/waiver.asp.  If you have any questions about the waiver please talk to your lawyer or let me know prior to registration so that I can either answer your questions or put you in touch with someone who can answer them.
Snow & Climate
Snowpack and Climate
May is the month for Svalbard Ski and Sail trips. The temperatures are mild and stable, with lows typically around -5°C and highs around +2°C. The snowpack is typically stable and skiing of the spring corn variety for the most part, although often Arctic Pow can be found on the steep norths.
Travel Tips
'
Booking your flights & Oslo hotel
There's no fast way to get to Svalbard. That said, I do have some hard won advice.
Finding a good deal on a good flight itinerary to Longyearbyen takes a bit of work. Book well in advance of your trip. Be careful of using the discount sites as additional luggage fees -- charged for each leg of your trip potentially -- can be pretty hefty. You will need two 20-kg bags so factor that into your planning.
Look for and spend a bit of extra money if necessary to get flights with shorter (<4 hr) stopovers and as few connections as possible.
I recommend you use one of the big airlines like KLM, Lufthansa, United or Air Canada all the way to Oslo, aiming to arrive in Oslo in the early afternoon.
Then overnight in Oslo and catch the next morning's flight to Longyearbyen with SAS or Norwegian airlines.
In Oslo, the Park Inn is a quick walk from the airport and very comfortable. The airport Best Western has a great breakfast buffet but requires a $10 each way shuttle. If you arrive a few days early, Oslo is a great world class city to visit.
On the way back, book a flight on the morning of May 29 to Oslo. If you are heading to a European city as your final destination you should be able to continue on same day. If you are heading across the Atlantic, plan to stay in Oslo again that night and catch an early flight back home, again with one of the big airlines.
A few web resources
Images from the Noorderlicht Sailing Yacht
Svalbard Topo Map - Check out the amazing archipelago of Svalbard with this excellent online topo map. See the terrain that makes our Svalbard Ski and Sail so incredible.
Polarmuseum website - Everyone who visits Longyearbyen has to check this place out. The North Pole museum is old and run down and not very good but still probably worth a visit.
Photo album from our May 2018 trip - A collection of my best photos from this year's trip
Blog post from our 2018 trip - A little blog post I wrote about the trip.
Itinerary
Itinerary
Day 1 (May 19): Arrival at the airport in Longyearbyen from Oslo (with SAS or Norwegian Airlines) in the early afternoon (usually one overnight required in Oslo). Transfer to our Hotel and time to check out the town including a visit to the "Polarmuseum".
Day 2 (May 20): Ski touring day trip close to town and return to our Hotel
Day 3 (May 21): Ski touring day trip close to town or alternative a snowmobile tour to the town of Barensburg, as small Russian mining town.
Day 4 (May 22): Potentially another shorter ski touring trip from town or a visit to an ice cave (4 hrs). Arrival day for those participants who chose to participate in the boat trip only. Embarkation around 4 pm at the earliest, safety briefing, departure from pier usually around 6 pm.
Day 5 – 10 (May 23-28):
We usually only sail one hour to our first ski tour in the Isfjord; harbours like Ymerbukta or . From there, we continue to sail along the West Coast of Spitzbergen to sample the best ski touring and peak ascent the group of islands has to offer. In May and June the sun will be with us for 24 hours in Svalbard, which leaves a lot of flexibility for our departures. After each day of skiing we return from the shoreline by Zodiak motor boat back to our Yacht, where the smell of dinner will usually welcome us. We usually finish the day on deck with a glass of wine, enjoying the contrast of the sea and the magnificent mountainscape with the everlasting sun above the horizon.
Arrival back in Longyearbyen usually around 4 PM. Farewell dinner on the boat.
Day 11 (29 May):
We bid farewell to our Yacht and crew in the morning after breakfast and head back to the airport. Via Tromso we will fly to Oslo from where we can catch our international connections, which may require an overnight.
Staff
Staff
Tom Wolfe (Mountain Guide ACMG/IFMGA) - Tom has been guiding since moving to Canmore in 1995, the place he calls home with wife, son and daughter. He guides year around, with winters being a mix of ski guiding at lodges, heli-ski operations, and remote backcountry destinations throughout western Canada. Tom is the owner of Sawback Alpine Adventures. This is Tom's second Svalbard Ski and Sail adventure!
Rob Coppolillo (Mountain Guide, AMGA/IFMGA) - Rob spent his 20s racing bicycles but eventually settled down to become the 98th American mountain guide. Rob speaks English, French and Italian and is also a freelance writer and the author of Holy Spokes: a Biking Bible for Everyone and The Mountain Guide Manual.Rob is the owner of Vetta Mountain Guides and lives in Boulder with his wife and their identical twin boys.