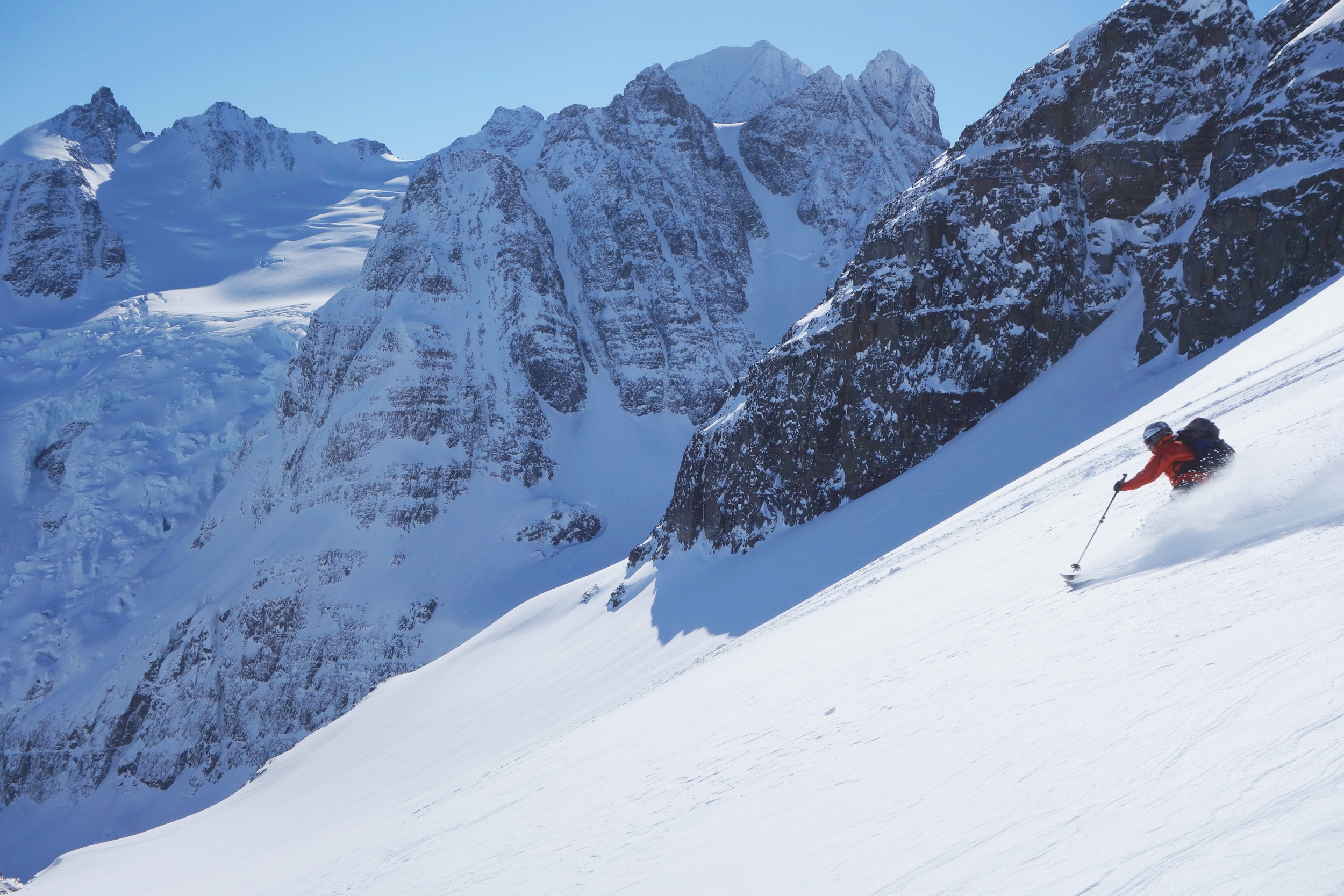 Skiing down towards the Rectory Couloir off Solitaire Glacier
Burnie Glacier
Ski touring week
8-15 March 2019
$2500/person CAD + 5% GST
Intro
Burnie Glacier Chalet is located near Smithers in northern British Columbia. It has spectacular, rugged alpine terrain with beautiful ski runs that range in nature from gentle glacier runs that can be done in most conditions to steep tree runs for high hazard days, to incredible ski mountaineering trips high into the alpine.
The Chalet is a simple but beautiful timber frame building, warmed by a beautiful wood burning kitchen stove with spectacular views of the towering Hut Peak, Burnie Glacier, Solitaire Ski Peaks and Lakehead Peak. It was built by Christoph Dietzfelbinger and a team of friends in the early 2000s. There are four bedrooms, each sleeping from 2 to 4 guests and including two double beds if there are any couples in the group. Pillows, sheets, and duvets are provided. You are encouraged to bring a couple of your own towels (one for using in the sauna, the other for drying off after your shower), although towels are available at the lodge in case you forget.
Burnie Glacier Chalet is perfectly situated for ski touring below the Burnie and Solitaire Glaciers and offers quick access to 700 m tree runs and 1400 m glacier runs that rise directly from the Chalet. In fact most of the runs ski right back to the Chalet with no uphill travel at the end of the day!
Payment, Booking Conditions
Fee for the week is $2500 CAD + 5% GST. A 50% deposit ($1250+GST) to secure your place is due upon booking. Balance of payment ($1250+GST) is due 8 December 2018. You will be invoiced for your payments after you have confirmed your interest in the trip. Please note that deposits are absolutely non-refundable, and final payments (the remainder) are non-refundable after the final payment date (3 months in advance of the trip start date).
Credit Card payments are welcome and of course very easy. Charges are made in CAD which is converted to your local currency at your card company's rate. We charge an additional 3.5% fee for card transactions. If your credit card provides you with cancellation insurance for this trip let us know and we will lower the convenience fee to 2%. This is because cancelled trips that have cancellation insurance are much less of a headache for everyone, including us. Please consider this option, it could be a very affordable way to protect yourself. But look carefully into your credit card's fine print to make sure this trip is covered.
Non Credit Card Payments from Canadian clients: If you do not wish to pay by credit card we prefer you pay by E-transfer if possible, sent to twolfe@sawback.com. If electronic banking doesn't appeal to you, cheques are fine too. There is no additional fee for Canadian E-transfers and cheques.
Non Credit Card Payments from outside Canada (US, Europe, other countries):
Third party electronic transfer

: This is the payment method we recommend to foreign clients as it's easy, inexpensive, and makes our bookkeeping very clean. You will need to fill out an agreement with our currency broker, Ken Fukami from Payline in Canmore, that includes your banking information to coordinate an electronic transfer (SEPA, EFT, etc.) There is no charge for this service, it usually takes about 5 minutes to complete the forms, and is typically around $50-100 cheaper than a wire draft or credit card payment. Contact us, or visit

Payline

's website for details. All of our clients have nothing but good things to say about Ken and this method of payment.

Wire draft (bank to bank)

: Your bank wires our bank the money in CAD. We charge a $20 CAD fee for receiving these payments.

Cheque:

in either CAD or in your local currency (e.g. EUR or USD) at a rate that we agree on (see

Royal Bank of Canada's Currency Conversion

for current rates used). No additional fee for cheque payments.
Mailing address: Please send cheques to Thomas Wolfe, 234 Grizzly Cr, Canmore, AB T1W1B5, Canada
Insurance
All fees paid are 100% non-refundable. We cannot be held liable for cancellations of any kind. Therefore we strongly recommend that you purchase trip cancellation and evacuation insurance to protect you in the event that you need to cancel or there is an emergency during your trip. The Alpine Club of Canada and Lifetstyle Financial (BCLBC Plan) both offer plans for trips like this that might interest you although we can't personally vouch for them.
Gallery
Some great photos from past trips:
Upper Ptarmigan and Lakehead East Ridge
Here's a great little video put together by some stoked guests:
Although this information package is comprehensive and specific to this trip, Christoph provides some general information on his Bear Mountaineering website that might prove useful to you as well.
Waiver
There will be a waiver of liability and medical form that you will need to sign in order to participate in the ski trip. We will have these ready for you to sign when you arrive. You can view the waiver here: English Waiver. The waiver is also attached below. If you have any questions about the waiver please talk to your lawyer or let me know prior to arrival so that I can either answer your questions or put you in touch with someone who can answer them. You will notice there is also a Medical Information Form for emergency contact and medical information. If you wish you can print the Medical portion of the form and fill it out prior to arrival. The waiver will have to be filled out and signed upon arrival.
Staff
Tom Wolfe (Mountain Guide ACMG/IFMGA) has been guiding since moving to Canmore in 1995, the place he calls home with wife, son and daughter. He guides year around, with winters being a mix of ski guiding at lodges, heli-ski operations, and remote backcountry destinations throughout western Canada. He has skied and guided many weeks at Burnie since 2004.
Ian Kirschner (Ski GUide, ACMG) has been ski guiding out of Golden for about 15 years. Ian mixes his time between guiding and working as a professional avalanche forecaster with BC Highways. Tom and Ian met during their guides' exams and did many trips and courses together!
Christoph Dietzfelbinger (Mountain Guide, ACMG/IFMGA) is the owner of the Burnie Glacier Chalet. He is the one who has developed the area for both winter and summer use and it is first and foremost Christoph whom we can thank for being able to spend a week of skiing in such a wonderful facility.
Finally, life at Burnie includes superb meals. These are prepared by one of our two gracious in-house chefs, Molly and Monika, who consistently amaze guests with their beautiful, tasty, and abundant food. We are happy to accommodate special diets.
Our goal is to provide you with the best skiing possible in the comfort and ease of a fully catered backcountry chalet.
Getting to Smithers
Simplest and easiest way to get to Burnie is to fly in and out of Smithers, BC. I recommend getting there the day before to allow time for your baggage to catch up to you in case it gets bumped. It's tempting to try to arrive on the 9:30 am Friday flight, stroll across the tarmack and get into the helicopter to Burnie at 10:30 am, but it's very risky!
The airlines that service Smithers are Air Canada (Jazz) and Central Mountain Air. If you are flying out of Vancouver you might find that CMA offers the best rates and availability. You might also find you can get cheap points tickets to Vancouver, and then add a CMA flight for your last leg. For some reason flights to Smithers have just been getting more and more expensive over the years.
You can also consider flying in and out of Terrace, BC which is a 2.5 hour drive from Smithers. Tickets to Terrace are often hundreds of dollars cheaper than to Smithers. You would need to rent a car, either as a one-way drop off twice or for the whole week — the costs work out to be about the same either way.
If you choose to drive to Smithers from your home be aware that it's a long, lonely 2-lane highway and while it's well maintained for a northern BC road it's quite a long haul and in a winter storm your pace could slow to a crawl. So check the weather and give yourself enough time.
Free Burnie Airport Shuttle Service
We provide a free shuttle service between the airport and hotel before the trip (Thursday evening and Friday morning) as well as after the trip (Friday afternoon/evening and Saturday morning). Please let us know if you would like to take advantage of this service well in advance.
Pre-post trip accommodation
I recommend you stay the night at the Stork Nest Inn Thursday night. The Stork Nest includes an excellent breakfast the next morning and also provides free storage area for any luggage, ski bags, etc. you want to leave in town.
Helicopter Logistics
We are scheduled to meet at the Silver King hangar (next to the airport, tel: 250-877-1989) in Smithers, BC at 10:30 on 8 March 2019 to fly into the Burnie Glacier. If this changes I will let you know as soon as possible. If you plan to stay at the Stork Nest Inn in Smithers we will send a taxi to pick you up at about 10:00 am. If you have made arrangements to stay elsewhere please let me know so that we can arrange to have you picked up at the correct time. We plan to be back in Smithers by 17:00 on 15 March 2019 at the very latest but usually as early as 14:00. If you choose to book a flight out of Smithers earlier than 18:00 be sure to get the appropriate insurance to cover you in case of weather delays out of Burnie.
Please do not transport your skis/poles in ski bags. Leave your ski bags at the Stork's nest. The helicopters have limited space and ski bags take up too much room. Don't worry, we'll be gentle loading them!
Equipment
A gear list for the week is attached below. Despite being a mid winter trip I recommend that you bring ski crampons. They can make a big difference even on a powder skiing week at times. If you have any difficulty obtaining these please let me know. I have some spares and can likely set you up with a pair. You will need a climbing harness with several locking carabiners. Please ensure that it fits comfortably over your ski clothes. A light weight ice axe is useful for some of the routes and peaks in the area.
The lodge is equipped with AC power and does have limited wifi internet access. It has a great ski repair area and several sets of high quality skis if you would like to try something different during the week. It also has a wonderful sauna for the end of the day, and beer and wine are available to purchase at the lodge.
Burnie Glacier – Ski Touring – Equipment List
Clothing
 Wool or synthetic socks and liner socks
 Long underwear top – synthetic or wool
 Light fleece or wool sweater
 Wind shell – nylon or 'Schoeller' type jacket
 Waterproof breathable jacket
 Warm insulated jacket – down or synthetic
 Long underwear bottoms – synthetic or wool
 Multipurpose stretch nylon or 'Schoeller' type pants
 Waterproof breathable pants
 Warm hat – wool or synthetic
 Brimmed cap for sun protection
 Face warmer – scarf, neck tube or balaclava (optional)
 Light gloves – wool, synthetic or leather
 Insulated gloves or mitts with waterproof outer shell
 Spare gloves or mitts
 Handkerchief for blocking the sun (optional)
Snow Safety Equipment
 Avalanche beacon with good batteries (and spares)
 Shovel
 Probe (2.4m or longer preferred)
Travel Equipment
 Skis or split board
 Ski strap
 Ski or snowboard boots
 Poles
 Climbing skins
 Skin wax (or a candle)
 Ski crampons
 Binding repair kit to fix your personal travel setup
 Ski helmet (optional)
Personal Equipment
 Pack (30-40 litres)
 Sunglasses (Having both orange and dark lenses is a real benefit for uphill travel in all
   conditions)
 Goggles (orange lenses)
 Sunscreen and lip cream (SPF 30+)
 Head lamp with good batteries
 Insulated water bottle or thermos (1-2 L)
 Lunch bag or container
 Personal blister kit (i.e: Leukotape-P and Compeed/Second Skin blister pads)
 Pocket knife (optional)
 Camera (optional)
Glacier Gear
 Harness – fitted for over your ski clothing
 Locking carabiners (x2)
 Non locking carabiners (x2)
 Prussik cord – 5m x 6mm (optional)
 Sewn sling – 120cm (optional)
 Lightweight ice axe
Hut Gear
 Duffle bag for flying into the lodge
 Shoes or sandals
 Winter boots for travel to the outhouse (boots at the hut for you to use as well if you prefer)
 Hut clothing
 1-2 Towels and swimsuit for sauna
 Personal medications and toiletries
 Ear plugs
 Reading material
 Chargers for electronic devices (normal AC power is available via micro-hydro)
Note the following are provided:
 * Beer and wine are available to purchase at the lodge at a reasonable price
 * Pillows and duvets supplied at the lodge
Group Gear (supplied by the guides)
 Altimeter
 Map and compass
 GPS
 Snow study kit
 Snow and/or bush saw
 First aid kit
 Emergency tarp
 Emergency toboggan
 Group repair kit
 Radio & satellite phone
 Ropes for glacier travel